Introducing a New Opportunity for Tradespeople and businesses in Our Area!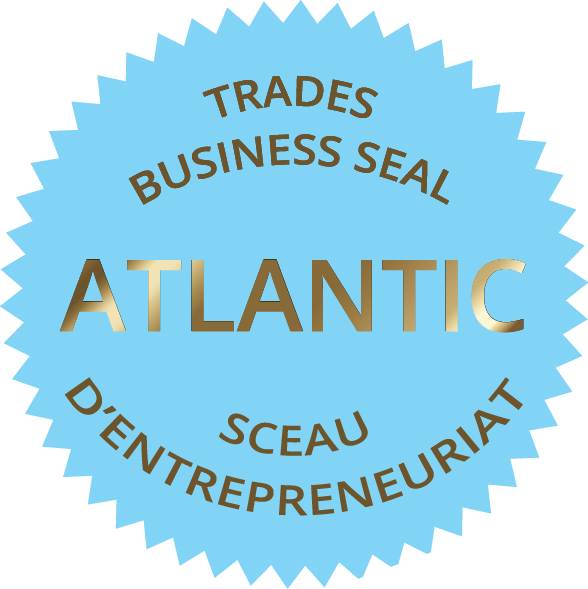 The Atlantic Trades Business Seal Program is a continuing education program for Atlantic journeypersons to advance their business and leadership skills and to gain regional career mobility. The seal can prepare you to take over a managerial role at your company or to start your own business. If you are already a business owner, the program can help you develop the skills you need to take your business to the next level. The goal is to assist tradespeople to start and operate their own business or move into leadership roles in their organizations. The seal program will result in greater regional mobility and business growth in Atlantic Canada. The program is organized under the leadership of the Atlantic Apprenticeship Council. The Atlantic Trades Business Seal Program is a continuing education program that is specific to the business and leadership needs of Atlantic tradespeople. The program is comprised of five stand-alone modules. Each module develops a specific set of skills that are critical to entrepreneurs and business management.
Admission Requirements – Applicants must hold a Certificate of Qualification in a designated trade.
Certificate Requirements – Individuals must complete four of the Training programs offered through the Cluster program in LAE  to complete the requirements for the Atlantic Trades Business Seal. Once these are successfully completed, certificates must be submitted to the Atlantic Apprenticeship Council who will issue the Atlantic Trades Business Seal
Mandatory programs for the Seal are:  Dollars and Sense (Financial Management Level One)
                                                                         Marketing 
                                                                         Human Resource Essentials
                                                                         Business Skills for Growth and Profitability.
CBDC/NOBL has many partners in the business support arena. We share  clients with ACOA and Service Canada; not to mention other financial institutions such as banks and credit unions.. We work with the local development agencies and Nova Scotia Business Inc. to find potential entrepreneurs as well as businesses looking for financial assistance. We see ourselves as the deliverer of all government small business development financing programs and as such have a bailiwick of options for people interested in getting into business, expanding or modernizing their current business.
CBDC-NOBL has been dedicated to strengthening the economic base of the Northern Region.  When Northern Opportunities for Business Limited (NOBL) was formed in 1986, it was known as Pictou County Business Opportunities Limited. NOBL has been operating since the beginning of 1997 in the three Counties of Antigonish, Pictou, and Colchester. Throughout that time our mandate has remained the same: To Support Business in our Community. 
Being in the industry I am, I have been aware of the SEB program for many years. As a participant, I was surprised at the number of ways the program impacted my business. Everyone I dealt with from the beginnings of an idea to final approval were helpful and supportive. The professional presenters on topics ranging from marketing to financial issues to insurance were very informative and often were able to put things in the context of my business problems and concerns. The most surprising to me though was the benefit received from brainstorming with other business owners about issues we were all facing in trying to grow our business and the realization that we had a network of support.